Types of aluminium corrugated roofing sheets in China
  Aluminium corrugated roofing sheets are used extensively in both China and other countries, especially in regions of low latitudes. Shielding, moisture-proof, corrosion-proof, radiation-proof, pressure resistance, and durable at high or low temperatures, the sheets cover a regular thickness scope from 0.2mm to 1.0mm, and the effective width includes 608mm, 760mm, 820mm, 900mm, 950mm, 960mm, 1025mm, etc. In addition to size, aluminium corrugated roofing sheets can be divided by other methods, too.
  1. By application, there are into roof panels, wall panels, floor boards and ceiling boards. In practice, the combination of corrugated aluminium sheets with flat colored aluminium sheets creates unique and novel building styles.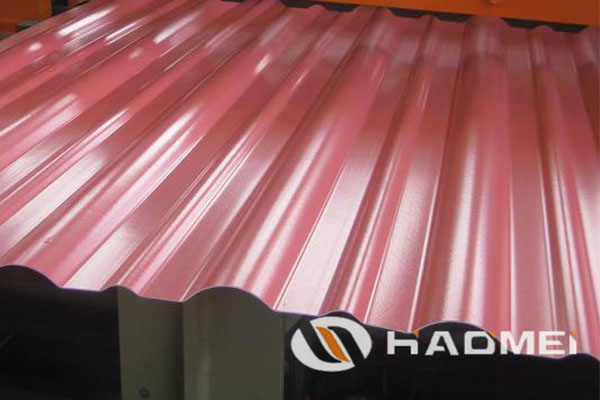 2. By wave height, there are high wave plate (wave height ≥70mm), medium wave plate (wave height <70mm) and low wave plate (wave height <30mm). Wave refers to the corrugated part of an aluminium roofing sheet.
  3. By substrate material, there are hot-dip galvanized substrate, hot-dip galvanized substrate and hot-dip galvanized aluminum substrate.
  4. By structure of the seam, there are overlapping, undercutting and crimping structures. Among them, undercut and crimped medium and high wave sheets are suitable for roof panels with high waterproof requirements; overlapped medium and high wave plates are galvanized as floor covers; while overlapped low wave boards are suitable for wall panels.
  5. By color, there are red, blue, gray and green.
  The specification range of corrugated aluminum sheets we can supply are as below:
  Height: 0.5 ~ 5.0mm
  Width: 2000 ~ 6000mm
  Aluminium alloy grades: 3003, 3004, 3105
  Models: 750, 840, 850, 900
  From a comprehensive comparison point of view, it is ideal to choose aluminum-magnesium-manganese corrugated roofing sheet as a roofing material. There's no need to worry about quality and service life as long as you choose a reliable supplier.